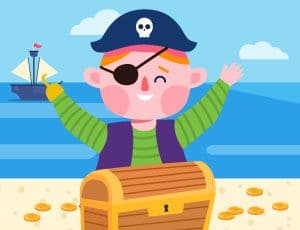 Pirate Operation 2
How about being a pirate? Get an eye patch and a signature outfit. You can make a cardboard ship and invite friends to play. The anchor can be made from cardboard as it is more resistant. Get a spyglass and everything you need to turn this game into a real scenario. Your mother, grandmother or aunt can give away the jewelry that will be kept in a box that will serve as a trunk. Dont forget to make a pirate hat. It would be great if you created a treasure map. Just use creativity. Every self-respecting pirate likes nature. Hope you like it too. It is very important to have a different look at our fauna and flora, as animals and plants are essential for the balance of the planet. The parrot is the pirates pet. Have you ever come across one? Wow, its a very nice and talkative little animal. Scenario ready!!! Its time to play and play a little. Did you know that every good pirate knows how to do addition and subtraction spells? In this online game, youll take him through several stages and pick up a lot of knowledge. Good performance in operations. Focus!!!!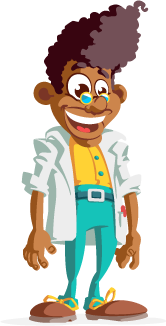 Teacher's tips
Level of Education: Elementary School
Subject: Mathematics
Theme: Addition and subtraction operations
Age 05 to 07 years old
The online game "Pirate Operation 2" is very dynamic and awakens the student to a fun universe in which it is possible to perform and redo operations of addition and subtraction in order to advance stages and assimilate the content being studied.
Online educational games are a very good teaching tool because they are practical, versatile and evolved. Children have fun while learning. As these games explore the ludic side, they contribute to a less traditional and tiring teaching.
In the game under study, the student works on his motor and cognitive skills. This game also favors competition since there is overcoming stages. This encourages the student to reach the end and also gives the opportunity to carry out a new calculation when he makes a mistake in adding or subtracting. It is important to realize that we are not always going to get it right and it is necessary to rethink our thinking to reach a common denominator.
The context of this game takes us to a fantastic scenario of the pirate universe. Students can extrapolate and research the protagonist and create puppets for a role-play. As pirates value nature, the Science teacher can propose a research regarding nature in the sense of preserving the environment and the planet. In Portuguese and Literature classes, it would be interesting to work with stories about domestic animals, such as the parrot, for example, since he is the favorite of pirates. Next, create puppets and put together stories with these little animals. This type of work awakens in the student a love for animals. Compassion for animals is one of the noblest virtues of human nature. "Before having loved an animal, part of our soul remains unconscious", Anatole France.
Teacher's support sheet