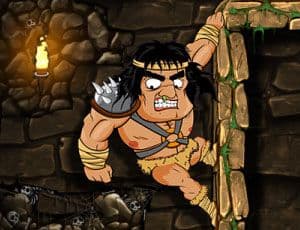 Wothan Escape
The game "Wothan Escape", kids, is very motivating, because you need to be very smart to escape the obstacles and manage to progress to the proposed phases with a certain speed. You cant give up if you have to start over. Thats right! Collect as many coins as you can to reach the exit door. Persistence is everything to win each stage.
When you start your race with the main character, avoid spikes and obstacles. Know that difficulties are placed in our path so that we can be more courageous. In our life, there will always be barriers to face and this online game represents a little of that reality. We need focus and determination to overcome the challenges of a game and also in our daily lives. Focus on the solution and problems so that you can reach the expected result!
We need to remember that obstacles are placed in our paths to be more courageous, persistent and grown up people. There is still hope! For this reason, never give up believing that there is hope for the obstacle you are facing right now. Do you know what overcoming is? Overcoming, according to the Aurélio dictionary, is about "being superior to or better than; go further than; get a victory over; supplant". In its literal sense, it means to cultivate a "super-action". In other words, its the same as having an attitude, daring and going beyond, leaving your comfort zone. Click to start this challenging race and jump your way to victory! Good game and performance, kids! Have fun!