Roman Numerals
In ancient Rome, gladiators were surrounded by glory and displayed their skills inside the Colosseum.
Today, you will go back in time and command a machine that shoots arrows. Your mission will be to collect all the coins scattered around the Colosseum.
Accumulate the coins, convert the total amount to Roman numerals and stay in command until you become a real Roman gladiator!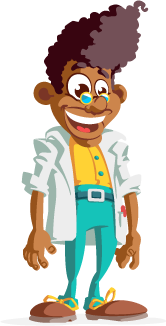 Teacher's tips
Level of education: Elementary School
Subject: Math
Age: 08 to 11 years old
This game is an excellent tool for fixing the content of Roman numerals, but it can also be used as an introduction to the content, associating it with the prior knowledge that the children already have. Working with Roman numerals and relating them to our numbering system helps children understand math and also the history of numbers! The game brings a playful and meaningful proposal of this content, relating it to ancient Rome, a time when these numbers were used.
Teacher's support sheet