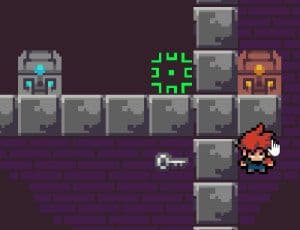 Swipescape
Hello, beautiful child who likes challenges! Welcome to our "Magic Castle".
When starting the game, you will be faced with a selection of levels. Start having fun in phase 1. Take the protagonist of the "Magic Castle" to face the existing obstacles in the trajectory he will go through in order to earn a lot of points and pass the level. To play the game, kid, just press the arrows on the keyboard to move between left and right, jump high, face setbacks and be agile to win the stage in a timely manner.
The aim is to find the magical chests that hide riches, collect coins that are scattered and open passages to reach the goal. There are special bricks that can contain surprises. What a cool castle full of adventures for you to enjoy!
The feeling of going through the difficulties imposed by the context of the game is what makes it more interesting and challenging. Makes you want to go ahead and do all the stages. If youve never been to a castle, its time to visit one. Are you ready to conquer the treasures of this castle and enjoy its magic? Successfully complete all levels and enjoy this wonderful and stimulating online game. Good luck!