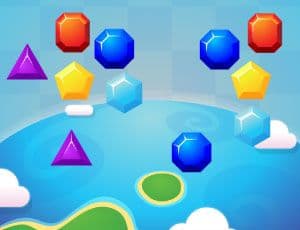 Jewel Classic
Hi dudes! Do you like CANDY CRUSH? This game is loved by many people and it is a matching game. Its one of the most successful mobile games of all time! You can even play on your cell phone. Cool huh?! Start playing now and enter this universe of fantastic colors and movements. We hope you have a lot of fun in this engaging puzzle game.
Play now with our version of this classic. To do this, just put together three shapes that have the same color and magic happens. Concentrate to score as many points as possible before the time runs out and do well in this challenge.
Did you know that the goal of CANDY CRUSH for the player is to complete a minimum score or clear the screen, with limitations such as number of moves and obstacles? This makes this game addictive, and at the same time, the combinations that happen help us to produce a substance called dopamine, which is actually a neurotransmitter that is directly related to the feeling of reward and pleasure that human beings feel. If you are one of the millions of users of games on social networks and smartphones, then chances are you have already heard about how this game is motivating and at the same time fascinating due to its visuals and dynamics. Accept this feat and get to work! Good performance, kids!