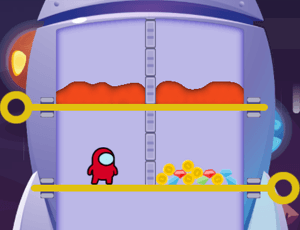 Among Rescue
Do you like sailing through space, kid? Watch it? Who never wanted to be an astronaut and explore planets, the solar system, the constellations? It must be really cool! Thankfully, with the internet and technology, everything has become easier. Did you know that Galileo Galilei created the first tool to observe space in more detail? It was called a spyglass. Today, we have large telescopes here on Earth and even in its orbit. Do you know telescopes? Through them, we can see celestial objects that are dimly lit or that are at great distances. Very nice to go beyond this game and learn about space!
Online games also take you on this incredible journey. In the game "Rescue Among", a child, you will face challenges related to space. All the time youll click on the golden pegs to open paths, but youll have to be the right pegs so you dont get hit by the lava and lose the treasures. There is a spacecraft capable of traveling through outer space, that is, above the atmospheric limit. Wow, how cool! There are also scary little monsters. How horrible! Does it also have space aliens?
Come and rescue the precious jewels that are scattered throughout the ship. You need to be smart to survive and capture the treasure. On the ship there are imposters that came from Among Us to disrupt your mission, but you cant stay out of this space adventure. Fight hard and good luck!