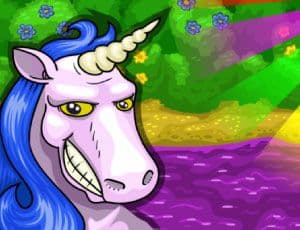 Brick Breaker Unicorn
Have you ever heard of unicorns? About their horn? They are mythological beings and their horns have powers. Did you know that "the unicorn is a myth that has aroused fascination over the centuries, which is why it is possible to see the animal stamped on various coats of arms, weapons of war, tapestries and statues"? In the dictionary, if you look for it, you will find the information next: the unicorn is "fabulous, a symbol of strength and purity, represented in medieval illustrations with a horses body and a stags head with a single, long, coiled horn." Nice to learn about mythology while we play!
Now the time has come, show that you have talent and start playing this very fun online game. The unicorns horn will be your power reference to touch and transport the marbles to the target and start the game. Respect the stipulated time to win the proposed challenge and score many points. Agility, speed and good perception will lead you to fulfill your mission in this fantasy, colorful and charming challenge, but full of tricks. Good luck, kids!