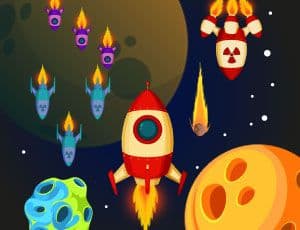 Space Shooter
Hi kids! Do you like to study about astronomy? Do you know what an astronomer is? The astronomer is the professional who researches the universe and all the elements that constitute it, such as planets, stars, galaxies and comets. He studies their physical properties, their formation, evolution and chemical composition. Studying the origins and characteristics of the universe is very good, as it makes us understand that the stars and their movements help in a better understanding of the different temperature variations that can occur, better seasons for crops and also understand how life was created human on our planet. Cool, huh, kids?! The game "Space Mission" will take you into this context.
Swipe to play and start having fun. This space mission is really cool. Keep clicking and driving the exterminator rocket through space and eliminate asteroids and planets from the path, as well as all the traps that do not let you continue on your mission.
You will have to inhibit the movement of the celestial bodies, together with the exterminator rocket, for him to successfully win the game. Lets play there, kids! Good luck!