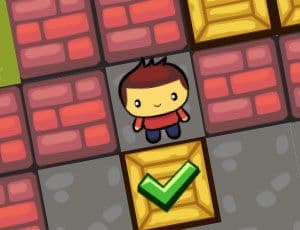 Box kid
Hi kids! Lets participate in another super fun online game?! Select the stage to start playing. Click on the right arrow to take the protagonist to the destination he wants to reach and complete the level. There are several stages for you to overcome the challenges. Be persistent and go for it!
Box Puzzle is a puzzle-like game. You have to guide the character with the arrows and make him push the boxes to reach the target. Cool huh?! Phase won, greater challenge ahead of you. Dont give up and proceed to the new stages.
Did you know that online puzzles have logic for adults as well as children? They can be played on computer, tablet or smartphone. Playing jigsaw puzzles regularly improves our memory, mental clarity and slows down the aging of neurons. Lets take care of our memory from an early age. Call your parents and friends to join in the fun too. Now, start playing and good luck!