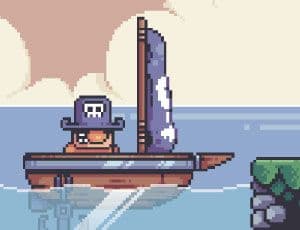 Treasure Hunters
This online game is for those who like pirates and adventures. The scenery is incredible. Here comes the pirate on his ship to face obstacles and conquer treasures.
In this super fun game, kids have instructions for on-screen and keyboard controls. Just have a little patience to get informed and start the challenge. Be smart, collect at least one map and immediately return to the ship to complete the stage.
Pirates make us think of very old stories, with sea battles and treasure hunts. A self-respecting pirate is brave, fearless and goes after riches. Are you curious to know what life was like inside pirate ships? Hmmmmmm!!!! Life inside the ships was not very good, in fact it was quite complicated and the long journeys were very precarious, because even with the help of hydraulic pumps, the water flowed into the ship and covered the bottom of the hull, resulting in the proliferation of mice, insects and worms. Then, serious illnesses appeared. This situation is difficult! Poor people! In addition to all this, the pirates lived facing great combats. In this super cool and dynamic game, as a child, the protagonist pirate goes in search of treasure and you will help him. The boat is small but very fast. Start this battle soon and have fun!