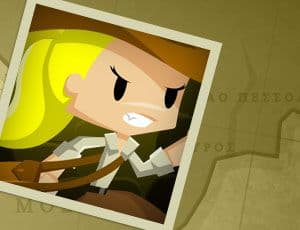 Indiara and the Skull Gold
Hi, girl! Have you ever heard of Indiana Jones, an individual with a double life, in this case, a quiet professor of Archeology, but at the same time, adventurous, fearless and courageous? He wore a revolver, whip and a hat which was his inseparable friend. He was better known as Indiana, a nickname taken from the name of the dog he had as a child. He was a hero of series and action movies. Cool huh?! From this incredible movie character, we were inspired and created Indiara Jones, as brave and fearless as he is. Of course, we couldnt leave her without a stylish and beautiful hat. You will lead her through paths full of challenges. She is looking for treasures.
This super fun online game takes us to an archaeological context, whose protagonist goes in search of treasures and many adventures, riches and fortunes never found.
Without your help, Indiara Jones will not be able to get to the hidden treasures. Its like a "treasure hunt". If in the middle of the way, something doesnt go as she planned, its okay. Dont be discouraged, bypass the challenge and surrender to the fun, only restarting the trajectory. Lets play with Indiara Jones. Good luck, kids!