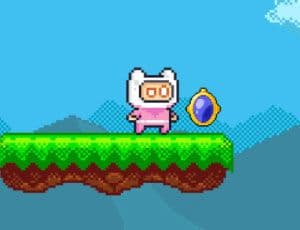 Super Pix
Have you ever imagined yourself in a forest that looks like a little farm? Have you ever thought about the dangers that exist in a place far from the city and people?
Super Pix is a very naughty and ended up in a forest. She is very smart and has ventured into the enchanted forest in search of news. Super Pix got that name because she likes roses a lot. She has many fragrant and simple flowers along the paths where she walked. There are also many bushes and opponents who want to stop her from fulfilling her mission, but she goes ahead with grit and determination.
Help Super Pix overcome obstacles and opponents. By jumping high, she will dodge her enemies and collect fruits and coins, thus making many points to pass the stage.
Dont leave her alone on this mission. Show that you also know how to dodge opponents in a game. All you need is concentration and agility with the little arrows on the keyboard and youll rock and help Rosinha to win a phase and move on to another. There are even little pigs and chickens in the forest with a farm profile. Too cool, right?! The setting is rural, very dynamic and fun. Rosinha goes on an adventure and vibrates with her achievements. When defeated, she gets up and starts all over again. She doesnt let herself be beaten. This little girl is brave! How about starting this game right away and having some fun too?!