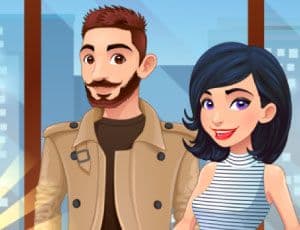 Fashion Dress Up
Do you like the world of fashion, dressing up for occasions and following trends?
This online game is really cool so you can, in a really fun way, combine clothes and create amazing and balanced looks.
Help the couple get ready to go out and rock an event. How about playing with a friend and helping this couple to dress with elegance and style? You can change the color of the eyes, the type of hair, put on each one the shoe that suits the outfit, in short, there are endless possibilities to make the couple well dressed and fashionable.
Very nice to play and at the same time learn about peoples looks. Click on the main arrow to bring up the scenery with our super stylish characters. There are the options to compose the boy and the girl. Use inspiration and the couple will look amazing. Start putting together Casal Fashion right away. By choosing the looks that will define the couples style, you will develop your logical thinking, your perception, motor coordination and agility. You are going to rock!