Teacher's support sheet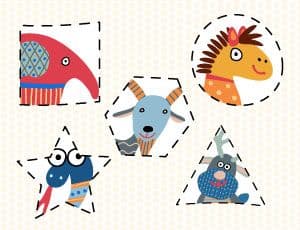 Fun Animals
Fun animals will show up on your screen.
To see them, you must first know about geometric shapes.
Let's start?
Go to activity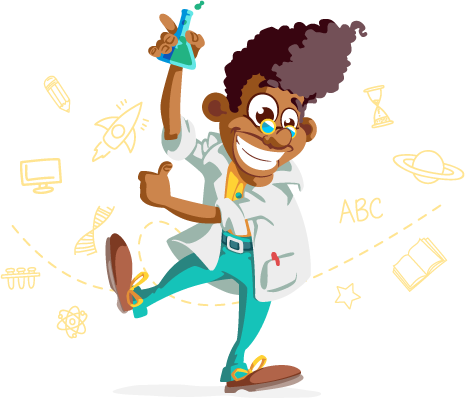 Teacher's tips
Level of Education - Elementary School
Subject - Mathematics
Theme - Geometric shapes
Age - 05 to 08 years old
Geometric shapes are all around us. If you take a quick look around, I bet you can identify many of them in a matter of seconds. Learning geometric shapes allows students to distinguish objects, helping with categorization, spatial reasoning, and problem-solving. Besides that, it is necessary to stimulate interaction with technology and learning through games.
Learner outcomes
To develop different thinking skills, such as observation, analysis and evaluation, and problem-solving;
To analyze forms and expand the ideas of composing and decomposing shapes;
To recognize the different positions of fragmented figures in an image;
To acquire self-assurance when solving problems;
To stimulate cooperation between classmates by promoting activities in pairs or groups;
To practice attention and memorization;
To help improve motor skills.
Teachers' goals
To teach in a playful way;
To use active methodologies when teaching mathematics;
To help students associate the knowledge built in the classroom with the game;
To provide an interactive moment between the classmates;
To use technology as a teaching-learning tool;
To offer the game as a didactic resource to explore the content discussed in the classroom;
To widen students' knowledge;
To work with motor skills, focusing skills, and logical thinking;
To develop different thinking skills, such as observation, analysis and evaluation, and problem-solving.
Suggestions of approaches for the teacher
Approach 1 : Ask students to create drawings using only geometric shapes;

Approach 2 : Walk around the school and ask students to identify and point to geometric shapes they find. You can perform this activity also using photographs.

Approach 3: DIY - Cardboard geometric shapes puzzle
Step by step:
First, draw the geometric shape on the cardboard

Cut out the geometric shape

Draw and cut a square around the hollow shape to form a piece.

Do that with all shapes cut out.

Paint the squares and the geometric shapes. The colors should not match! How to play: Spread the shapes and the squares. Ask students to match them.
Approach 4 : Use modeling clay to create geometric shapes;

Approach 5: Go treasure hunting around the school. Here's how it works:
Go with the kids to an open space;
Tell them the geometric shape they should look for;
Now they must go out looking for somewhere in the school that shape. Turn this game into a competition to motivate the students. Write down the scores when they find the shapes and tell them at the end!
Approach 6 : Promote an origami festival with your students! You can find many examples on the internet. You can use any kind of paper. Every time you fold it, ask students what geometric shape it forms.
More about the content
Here are other games from BEST SCHOOL GAMES that are related to geometric forms:
Animals Puzzle
https://www.bestschoolgames.com/games/animalsPuzzle/
Panda Puzzle
https://www.bestschoolgames.com/games/pandaPuzzle2/
Monsters Puzzle
https://www.bestschoolgames.com/games/monstersPuzzle/
Super Heroes Puzzle
https://www.bestschoolgames.com/games/superHeroesPuzzle/
Dog Puzzle