Teacher's support sheet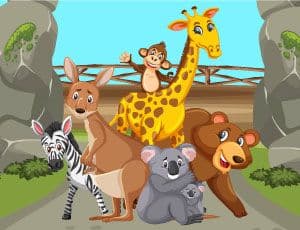 Crazy Zoo
Come and visit the Crazy Zoo! You will meet many animals, such as elephants, giraffes, and bears! Lets count how many animals of each species live in the crazy Zoo.
Go to activity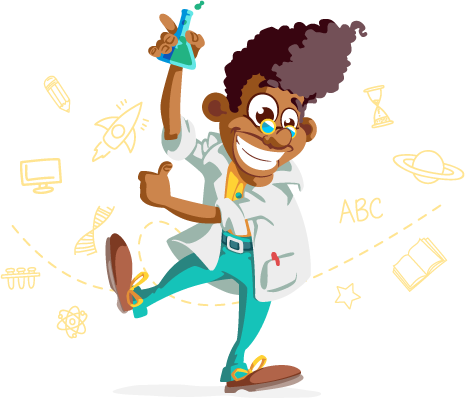 Teacher's tips
Level of Education: Preschool
Subject: Mathematics
Theme: Numbers and operations
Age: 04 to 05 years old
Using games to teach mathematics in early childhood education is a strategy that sharpens curiosity and logical reasoning, besides encouraging them to understand its importance in daily life. The games, when worked in couples, enable cooperation between students. Therefore, at times provide activities in pairs or groups. Ask students to take turns using the computer and collaborate to choose the correct answer.
After the game, tell students to write the numbers that they chose. Then, they should make a drawing to represent each number. Below are some suggestions for developing other activities complementary to the game.
Learner outcomes
To recite and memorize the numerical sequence from 0 to 9;
To learn about quantity and relation of numerals, besides counting;
To develop the reading and writing of numbers as a support to understand different math contents;
To understand the logic of numbers
To explore and recognize the numbers and relate them to their quantities;
To develop reasoning and mathematical skills through ludic stimuli;
To acknowledge the names of the numbers and associate them with their respective numerical symbol.
Teachers' goals
To use Internet resources to work on counting the number sequence from 0 to 9;
To help students write numbers from 1 to 9;
To assist students in understanding the importance of numbers in their daily lives;
To reinforce content discussed during the classes.
Suggestions of approaches for the teacher
(Approach 1) Start the class by counting the numbers from 0 to 10 in ascending and descending order, then ask students to write this sequence.
Draw and cut the numbers from 0 to 10 using colored EVA sheets. Cut out molds, then glue them at the top of the frame.
(Approach 2) Separate bottle caps. Inside, stick numbers from 0 to 9. Each student must have at least two numerals of each. Give students the caps and ask them to assemble two sequences: ascending (from 0 to 9) and descending order (from 9 to 0);
(Approach 3) Ask students if they collect something and how many items they have. If they don't remember, ask them to count at home and bring it to the next class.
(Approach 4) Ask questions:
● How many students are in the class today?
● How many girls?
● And boys?
● Are there more boys or girls?
● What day is today?
(Approach 5) Ask students to make colorful cards with the numbers from 1 to 10. These numbers must be with them for other activities;
(Approach 6) Play bowling using plastic bottles. After a kid plays, ask them to count how many bottles they got. You can create a score to encourage students to play.
(Approach 7) Play bingo.
(Approach 8) Print numbers from 0 to 9. Around each one, draw a circle, then ask students to draw within the circles' drawings with the quantity corresponding to the number written.
(Approach 9) Complete numerical sequence: Print images with missing numbers for students to fill in.
(Approach 10) Print drawings within circles with quantities from 0 to 9, then ask students to write the corresponding quantities.
(Sugestão 11) On a sheet make the activity of connection between sets: to allow the relationship between objects, animals, or people with the corresponding numeral;
More about the content
Especially for subjects considered difficult, The teaching-learning process needs pedagogical tools to meet the students' priorities and necessities. Maths is often characterized by the number of formulas and procedures that require memorization. This idea needs to be demystified. Therefore, the teacher must enable the teaching of mathematics in an attractive and fun way. This game is a tool that certainly collaborates to change ideas students hold about math. One of the biggest benefits of using games in the classroom is the possibility of detecting students who are struggling without the need for more rigorous evaluation processes. The assessment process can also be a learning time. This moment needs planning to promote stimulating teaching to students. Online games do not have to be only a relaxation for students. It can be used in all teaching stages, including this assessment.